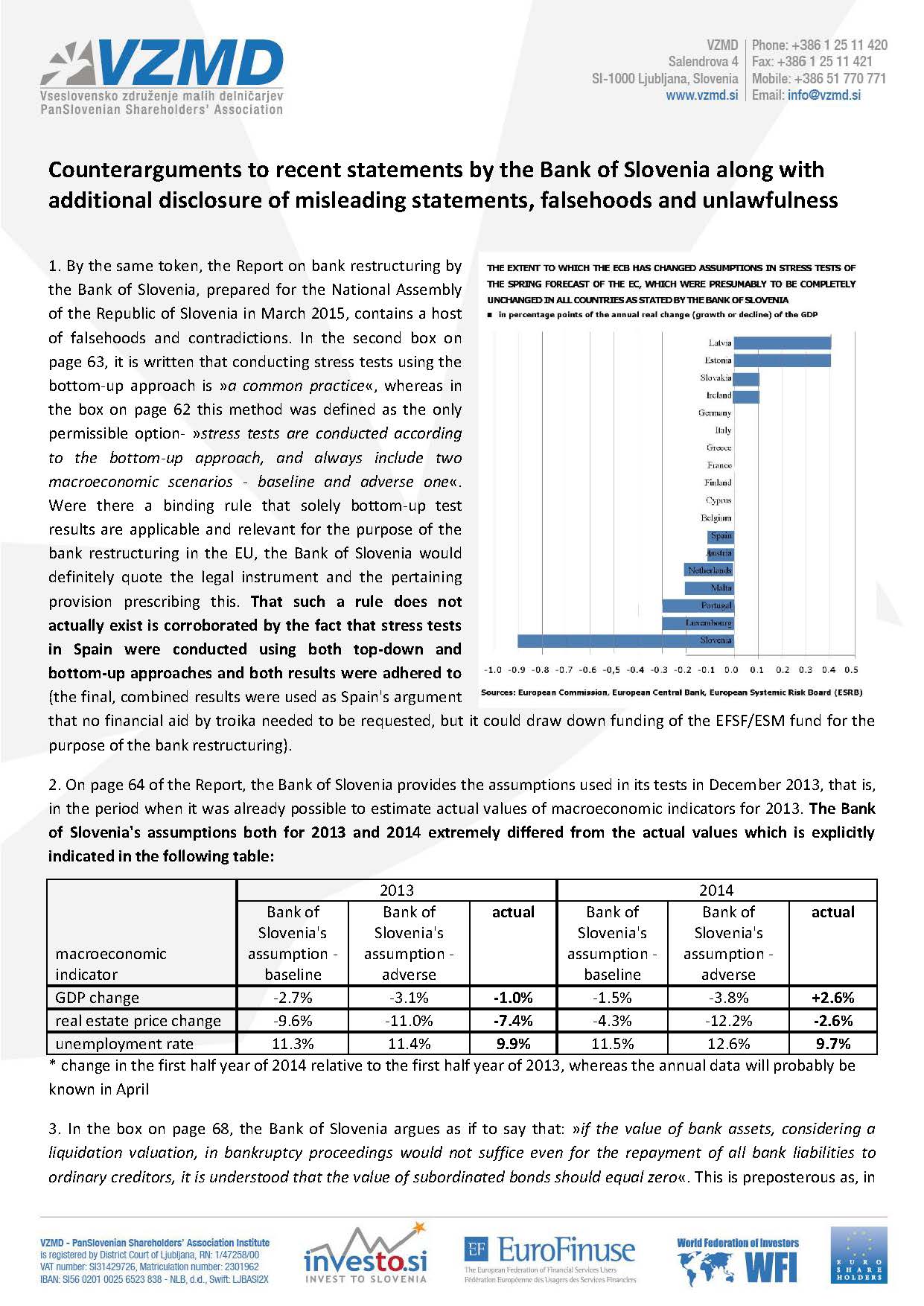 This month a summary of Counterarguments to recent statements by the Bank of Slovenia along with additional disclosure of misleading statements, falsehoods and unlawfulness has been delivered to the National Assembly of the Republic of Slovenia by the PanSlovenian Shareholders' Association (VZMD), ahead of its` Urgent session (of the National Assebly) – VIDEO REPORT from VZMD.tv / investo.TV.
It is all about 8 crucial facts, substantiated findings and warnings by the VZMD Expert council co-workers, whereby the last (the 8th) fact is actually new and shocking unveiling of the indisputable evidence against the unlawfulness of Slovenian banks valuations and the overblown "bank gap" as a foundation for the billion euro damage to the Republic of Slovenia and its citizens based on unlawful actions by the Bank of Slovenia and its Emergency measures decisions.
Supported by evidence, VZMD, among other things, finds that the Bank of Slovenia - based on its Emergency measures decision - substantiated all emergency measures on bank liquidation score provided by companies Ernst & Young Svetovanje (Advice) d.o.o. and Deloitte svetovanje (Advice) d.o.o., however not by Ernst & Young (Auditing) d.o.o. and Deloitte revizija (Auditing) d.o.o.! Ernst & Young Svetovanje d.o.o. and Deloitte Svetovanje d.o.o. are not auditing companies, and under the law cannot be independent corporate appraisers as required by the Banking Act (ZBan-1L). It follows that the liquidation value of banks, which served as a basis for emergency measures and "hair-cut" cancellations (expropriations) of shareholders and bondholders, was not calculated under ZBan-1L provisions, and which is why it can not be a legal basis for emergency measures.
---
Other Related International Activities:
Is the European Commission attempting to obstruct the investigation and protect the responsible persons?! The unprecedented provocation opens plethora of grave issues about processes, structure and perspectives of the EU -
NKBM = BANKIA – mass protests take place in front of The Central Bank of Spain (CBS) because of national fraud against 350,000 shareholders who are represented by the law firm that is attending, along with VZMD (Pan−Slovenian Shareholders' Association), the international initiative at CBS. (Madrid, September 2013)
WORLD BANK – President of VZMD and EuroFinUse Board Member speaker of the first panel at the international conference about audit reform and the importance of audit committees (Bucharest, June 2013)
VIDEO REPORT – exclusively from the European Parliament: the EuroFinUse international conference and the Election Assembly, the announcement of the new President and Board of directors of this influential European association, into which a representative of Slovenia is also re-elected (Brussels, March 2013)
BRUSSELS – Slovenia with VZMD once more elected to the top of the European Federation of Financial Services Users – intensive international activities today continue with a conference in the European Parliament (Brussels, March 2013)
TOKYO – conclusion of the visit of Slovene economic and political delegation with Slovenian-Japanese Business & Investment Forum and the reception at Japanese investors' association – the active role of VZMD with its international investors' programs investo.si and invest-to.net(Tokyo, March 2013)
INDIA – visit of Slovenian government and business delegation – on the basis of Memorandum between ICPE and VZMD international investors' programs investo.si and invest-to.net also present (New Delhi, February 2013)
Memorandum of cooperation signed between the International Center for Promotion of Enterprises (ICPE) and VZMD, with additional expansion of activities within the framework of international investment programs investo.si and invest-to.net (Ljubljana, January, 2013)
EXCLUSIVE VIDEO REPORT of "International Conference on Benefits and Challenges of Public Private Partnerships for improving Energy Efficiency" – key statements of prominent participants (Ljubljana, October, 2012)
EXCLUSIVE VIDEO REPORT from EuropeanIssuers International Conference on »The future of European Equity Markets« at the Milan Stock Exchange – programs investo.si in invest-to.net also at the upcoming International Investors´ Conference in Wiesbaden (Milano, November 2012)
VIDEO REPORT - International Conference at the Brussels Stock Exchange Stimulated Investors' Representatives and Institutions to Participate at the Investors' Week 2012 in September in Slovenia(Brussels, March 2012)
---
www.vzmd.si – More on the VZMD – PanSlovenian Shareholders' Association
www.vzmd.tv and www.investo.tv – Over 300 videos from VZMD.TV and investo.tv
www.investo.si – More on the investo.si – Invest to Slovenia Program
www.invest-to.net – More on the network of 55 national organizations of shareholders and investors – invest-to.net