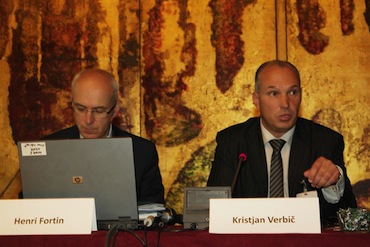 The World Bank, or rather its Centre for Financial Reporting Reform (CFRR) held a very important international conference in Bucharest yesterday, titled "The Audit Committee: the keystone of the financial reporting and audit process – from policy to practice". Mr Kristjan Verbič, President of PanSlovenian Shareholders' Association (VZMD), also participated (link to the presentation) in the conference as an invited speaker and representative of the European Federation of Financial Services Users (EuroFinUse), where he acts as a member of the Board.
On this occasion Mr Verbič presented to the public for the first time the VIDEO REPORT from the international conference EuroFinUse "The Audit Reform - Impact on Investors", which took place in the European Parliament. The team at VZMD.TV and investo.tv had prepared the video for the European federation (to view click on the image to the right).
The notable conference was attended by more than 200 guests and visitors in addition to distinguished speakers from all over the world, including Henri Fortin – Head of CFRR (in the picture with Mr Kristjan Verbič), Chris Hodge – Director of Corporate Governance at the Financial Reporting Council (FRC), United Kingdom (also Chairman of the European Corporate Governance, Codes Network), Horia Neamtu – President of the Chamber of Financial Auditors of Romania, Arnold Schilder – Chair of the International Auditing and Assurance Standards Board, Hilde Blomme – Deputy Chief Executive of the European Federation of Accountants, Krzysztof Szułdrzyński – Partner in PWC Poland and many others.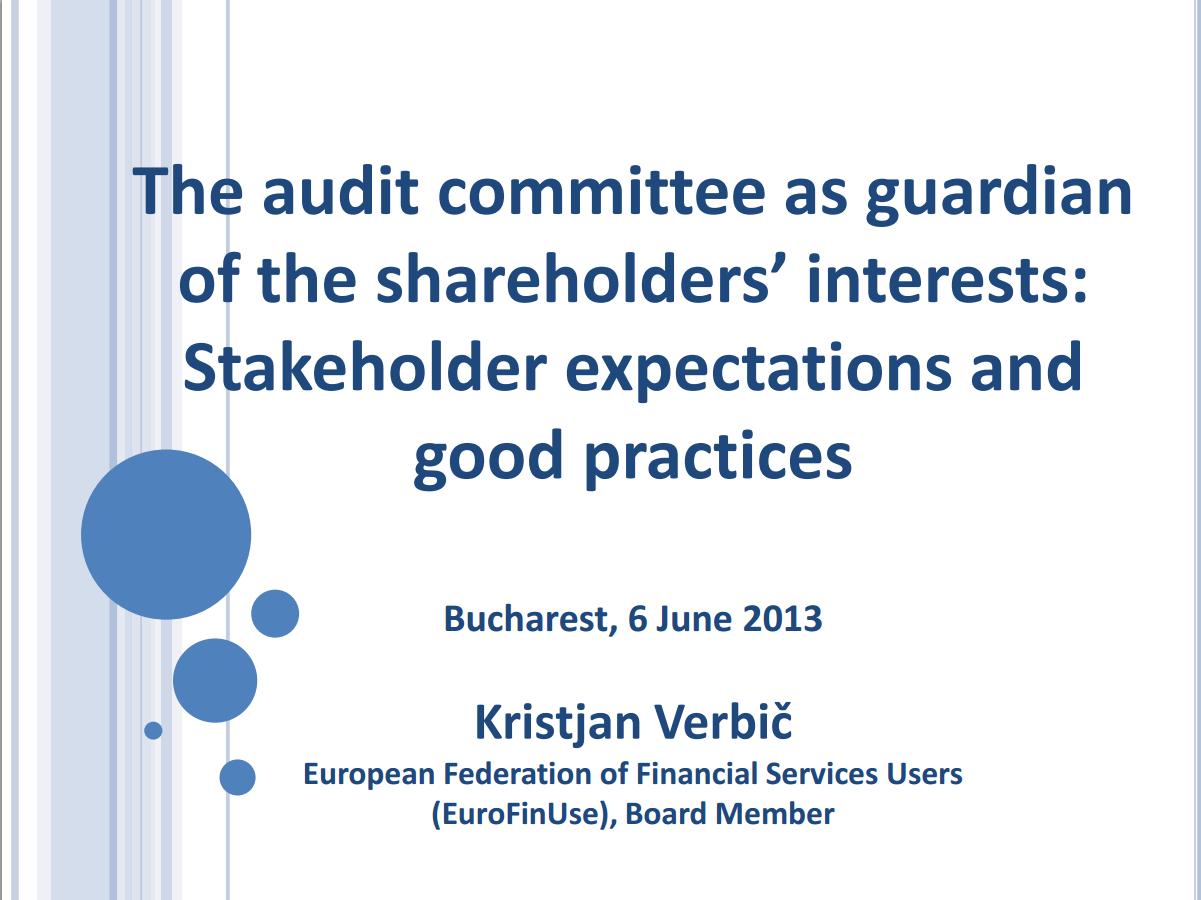 Other Related International Activities:
VIDEO INVITATION to the 14th Bled Forum – Europe for Africa & Africa for World – among the partners of event also VZMD and its investors' programs investo.si and invest-to.net(Ljubljana, May 2013)
VIENNA – EXCLUSIVE VIDEO REPORT from the European meeting of venture and start-up capital funds and the congress of business angels' network EBAN 2013 – an active role of VZMD and its international investors' programs investo.si and invest-to.net (Vienna, May 2013)
VIDEO REPORT – Variegated happening at the 19th financial fair KAPITAL 2013 at Cankar Hall, along two-day presentation of the international investors' programs and the lecture of VZMD President (Ljubljana, April 2013)
VIDEO REPORT – exclusively from the European Parliament: the EuroFinUse international conference and the Election Assembly, the announcement of the new President and Board of directors of this influential European association, into which a representative of Slovenia is also re-elected (Brussels, March 2013)
BRUSSELS – Slovenia with VZMD once more elected to the top of the European Federation of Financial Services Users – intensive international activities today continue with a conference in the European Parliament (Brussels, March 2013)
TOKYO – conclusion of the visit of Slovene economic and political delegation with Slovenian-Japanese Business & Investment Forum and the reception at Japanese investors' association – the active role of VZMD with its international investors' programs investo.si and invest-to.net (Tokyo, March 2013)
INDIA – visit of Slovenian government and business delegation – on the basis of Memorandum between ICPE and VZMD international investors' programs investo.si and invest-to.net also present (New Delhi, February 2013)
Memorandum of cooperation signed between the International Center for Promotion of Enterprises (ICPE) and VZMD, with additional expansion of activities within the framework of international investment programs investo.si and invest-to.net (Ljubljana, January 2013)
EXCLUSIVE VIDEO REPORT from Slovenian - Azerbaijani Business Forum in Baku (Baku, January 2013)
EXCLUSIVE VIDEO REPORT from EuropeanIssuers International Conference on »The future of European Equity Markets« at the Milan Stock Exchange – programs investo.si in invest-to.net also at the upcoming International Investors´ Conference in Wiesbaden (Milano, November 2012)
EXCLUSIVE VIDEO REPORT of "International Conference on Benefits and Challenges of Public Private Partnerships for improving Energy Efficiency" – key statements of prominent participants (Ljubljana, October 2012)
EXCLUSIVE VIDEO REPORT - Investors' week and the view of business potentials and investment opportunities during the visit of distinguished international guests at the Slovenian coast (Postojna, Koper, Piran, September 2012)
VIDEO REPORT "Ljubljana declaration" – historic decision on unification of 50 organizations of shareholders and investors under one association and VZMD award »Polet« for »Model corporate governance in multinational corporation« to Gorenje company (Ljubljana, September 21 2012)
Gala reception and dinner before International Conference on financial education and investors` exposition »investo Expo« (Ljubljana, September 19 2012)
VIDEO REPORT - Prominent Participants of Two Key International Conferences in Bled, India and Slovenia as Business Partners and CloudForum, Show Interest in the Investors' Week in September in Slovenia (Bled, March 2012)
VIDEO REPORT - International Conference at the Brussels Stock Exchange Stimulated Investors' Representatives and Institutions to Participate at the Investors' Week 2012 in September in Slovenia (Brussels, March 2012)
"Slovenian Day at the Warsaw Stock Exchange (WSE)" Exceptional Interest of Funds, Investors, and the Financial Media for Slovenian Companies and Its Investment Environment - The Introduction of investo.si - Invest to Slovenia's Newly Founded Affiliate, investo.me - Invest to Montenegro (Warsaw, October 2011)
SLOVENIA PRAISED IN PARIS – acclaimed presentation of reputable Slovenian companies at the largest European investment convention, Actionaria, and the General Assembly of the World Federation of Investors Corporation (WFIC) – VZMD.TV EXCLUSIVE BROADCAST (Paris, December 2010)
---
www.vzmd.si – More on the VZMD – PanSlovenian Shareholders' Association
www.vzmd.tv and www.investo.tv – Over 300 videos from VZMD.TV and investo.tv
www.investo.si – More on the investo.si – Invest to Slovenia Program
www.invest-to.net – More on the network of 55 national organizations of shareholders and investors – invest-to.net