Sao Paulo, 15. – 20. 6. 2012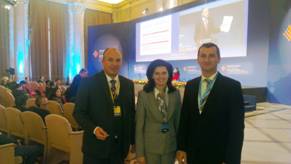 During the past week a delegation, led by Vice Prime Minister and Minister of Economic Development and Technology of the Republic of Slovenia, Radovan Žerjav M.Sc., and successfully organized by the Ministry of Foreign Affairs of the Republic of Slovenia, visited Sao Paulo, Brazil. Among delegates – the Director General for Tourism and Internationalization, Marjan Hribar M.Sc, CEO of SID Bank, Svilan Sibil, CEO of the Iskra Avtoelektrika, Edvin Sever, Director of International Relations at the Slovenian Chamber of Economy, Aleš Cantarutti, Sales Manager at the Port of Koper, Sara Morato, and many other representatives of 26 Slovenian companies and institutions – were also President of PanSlovenian Shareholders' Association (VZMD), Kristjan Verbič M.Sc., and Secretary General of VZMD, Sarah Kavšek.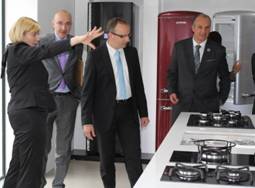 Representatives of VZMD took the opportunity of the visit especially for the integration of Slovenian and Brazilian companies at the international investors' exposition and "investo Expo" conference, that will be organized within the "investors' Week" and the invest-to.net network – which is part of the VZMD program investo.si, and held on 20 and 21 September in Ljubljana Cankar Hall (VIDEO PROJECTIONS by clicking on the image to the left).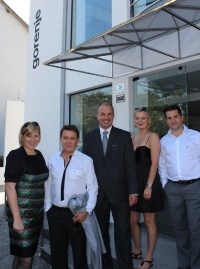 During a number of bilateral meetings and conferences Mr. Verbič and Mrs. Kavšek arranged reestablishment of the direct connection among investors' exposition and conference "investo Expo" and the largest investors' exposition in Latin America "Expo Money", which is going to take place in September in Sao Paulo. Among other things, they conducted conversations with representatives of several major Brazilian investment funds and institutions, and met with the director of the Federation of Industries of the State of Sao Paulo (FIESP) and Deputy Director for International Affairs and Foreign Trade (DEREX), Newton de Mello, the Director of investment agency of Sao Paulo INVESTE SP, Serbio Rodrigues Costa, the Director of Foreign Relations at the SENAI SP, Roberto Monteiro Spada, the Representative of the Agency of Sao Paulo to promote investment and competition, Renata de Barros, the Director of world-renowned Institute Butantan, Jorge Kalil, the Director of the Scientific Foundation of the State of Sao Paulo (FAPESP), prof. José Humberto Brito Cruz, etc..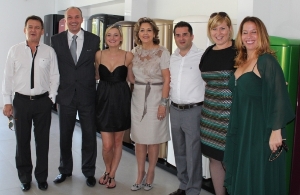 In addition, the two representatives of VZMD attended the reception at the famous Slovenian-Brazilian family Hlebanja, where the delegation members met with a number of Slovenian businessmen in Brazil and Brazilian businessmen to cooperate with Slovenia, and with Mr. Žerjav visited a brand-new showroom of Gorenje, which was established by a renowned Slovenian businessman Drago Urankar or Urankar Brasil company and his colleagues on the elite Avenida Brasil.
---
OTHER NOTABLE INTERNATIONAL ACTIVITIES:
VIDEO ANNOUNCEMENT – "investors' Week" 2012 – Largest Meeting of Investors' Representatives – Invitation for Presentations and Direct Contacts With Over 100 Shareholders' and Investors' Representatives From 55 Countries (Ljubljana, June 2012
Investors' Representatives Discuss the Up-Coming "investors' Week" (Ljubljana, May 2012)
WFI President, Jean-Pierre Paelinck, Lectures in Seoul, South Korea (South Korea, May 2012)
VIDEO REPORT – investo.si and VZMD Actively Participate at the Ljubljana Stock Exchange's Slovene Capital Market Day 2012 for the Third Year (Ljubljana, April 2012)
VIDEO REPORT – Kapital 2012 – Active Participation of the VZMD, investo.si, invest-to.net (Ljubljana, April 2012)
VIDEO REPORT – Prominent Participants of Two Key International Conferences in Bled, India and Slovenia as Business Partners and CloudForum, Show Interest in the "investors' Week" in September in Slovenia (Bled, March 2012)
VIDEO REPORT – International Conference at the Brussels Stock Exchange Stimulated Investors' Representatives and Institutions to Participate at the "investors' Week" 2012 in September in Slovenia (Brussels, March 2012)
VIDEO HIGHLIGHTS from the Euroshareholders & VZMD Award Ceremony, Holiday Party, and Announcement of the World's Largest Meeting of Investors' Representatives in 2012 in Slovenia (Ljubljana, December 2011)
VIDEO REPORT – The Arrival of the President of the WFIC – World Federation of Investors Corporation, Who Will Announce the Largest Meeting of Investors' Representatives, Which the VZMD Will Organize Next Year in Slovenia, and the Recipients of the "Most Shareholder Friendly" and "Courageous Market Steps" Awards, Which Will Be Presented to the CEOs of Mercator and Nova KBM at the VZMD Reception Ceremony (Ljubljana, December 2011)
Very Successful Visit of the AEMEC Conference and at the Headquarters of Santander Bank in Madrid (Madrid, November 2011)
EUROSHAREHOLDERS General Assembly – Slovenia voted as Member of the Board; Russia and EFES Accepted as Associate Members; General Secretary, President, and Vice-Presidents Elected to Another Term; Next Assembly to Be Held in Slovenia (The Hague, October 2011)
The World Federation of Investors' Corporation (WFIC) General Meeting in Warsaw – Next Year the WFIC GM Will Be in Ljubljana; The Newly Established Affiliate of investo.si – Invest to Slovenia, investo.me – Invest to Montenegro, Was Elected as a New Association Member (Warsaw, October 2011)
"Slovenian Day at the Warsaw Stock Exchange (WSE)" Exceptional Interest of Funds, Investors, and the Financial Media for Slovenian Companies and Its Investment Environment – The Introduction of investo.si – Invest to Slovenia's Newly Founded Affiliate, investo.me - Invest to Montenegro (Warsaw, October 2011)
---
www.vzmd.si – More on the VZMD – PanSlovenian Shareholders' Association
www.vzmd.tv and www.investo.tv – Over 230 videos from VZMD.TV
www.investo.si – More on the investo.si – Invest to Slovenia Program
www.euroshareholders.eu/eurovote – More on the EuroVote system